Shifting From Load Boards to DFM: How 48 Barriers Saves "4-6 Hours a Day" Booking Freight with C4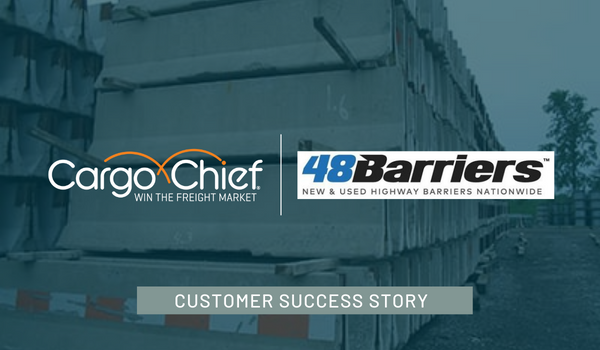 Who is 48 Barriers?
48 Barriers specializes in sourcing and shipping concrete blocks, barriers, and planters for all commercial applications throughout the lower 48 states. They work with businesses in industries ranging from entertainment to construction. Because they source the barriers themselves, they serve as both the shipper and the carrier for their customers.
The Need for a More Efficient Tech-Stack
The need to move from the traditional booking process to a more efficient tech-focused process was immediately apparent when 48 Barriers experienced rapid growth in 2022. More sales meant more barriers needed to be moved, and the manual way of booking freight was unmanageable.

Before building out their tech stack, 48 Barriers used Google Sheets to track everything, including their loads, bills of lading, and carrier confirmations. This was a laboring, inefficient, and time-consuming process for their small team of one.

Immediately they needed to implement a TMS system to eliminate the redundant manual work and track their loads better. 48 Barriers onboarded Tai Software as their TMS with the functionality to enable their team to automate many aspects of their operations, from posting to load boards automatically to sending documents directly through the TMS.

From a sales side, having easy access to the TMS provides an at-a-glance look into what loads are pending, in transit, and delivered, increasing visibility and improving communication throughout the company.

Adding Tai TMS to their tech stack was the first step in building a tech-enable brokerage, but they were still spending countless hours relying on load boards and calling 15-20 carriers to cover one load. After exploring Tai's integration partners, 48 Barriers found Cargo Chief's C4 platform to be the solution they were looking for to streamline their carrier sourcing, automate their outreach, and book freight faster.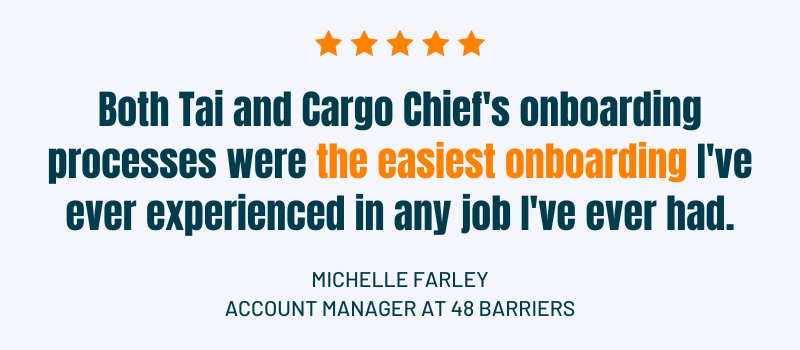 The Transition from Load Boards to Digital Freight Matching
Before Cargo Chief, 48 Barriers relied heavily on load boards to cover their freight. Their days were consumed with phone calls leaving little to no time to build relationships with these carriers. It was a very transactional-based booking process.
Cargo Chief's C4 digital freight matching solution integrated with Tai TMS enabled 48 Barriers to turn transactional carriers into repetitive business. In a matter of months, they

grew their carrier network by 50%

, improving their carrier reuse and increasing margins.
48 Barriers was able to expedite the booking process by not only growing their carrier network but also automating load offers. As soon as a load gets built in their TMS, C4 instantly identifies and emails load offers to their best fit in-network carriers. Through automation, 48 Barriers doesn't have to manually identify carriers or build out carrier profiles because C4 does it for them.
"We realized how amazing it is not having to post loads to load boards", said Michelle Farley, Account Manager at 48 Barriers. "We get a lot of traffic from emails sent out using Cargo Chief. We don't have to make as many phone calls to book loads and don't have to take as many phone calls from load boards."
To date, 48 Barriers has been able to:
Save 4-6 hours a day of manual work, enabling them to focus on building relationships with their carriers and booking more freight

Book 80% of their loads within 24 hours without having to post the load on load boards

Expand their carrier network by 50%, increasing carrier retention

Book 3x more loads digitally

Hire additional dispatchers to move more freight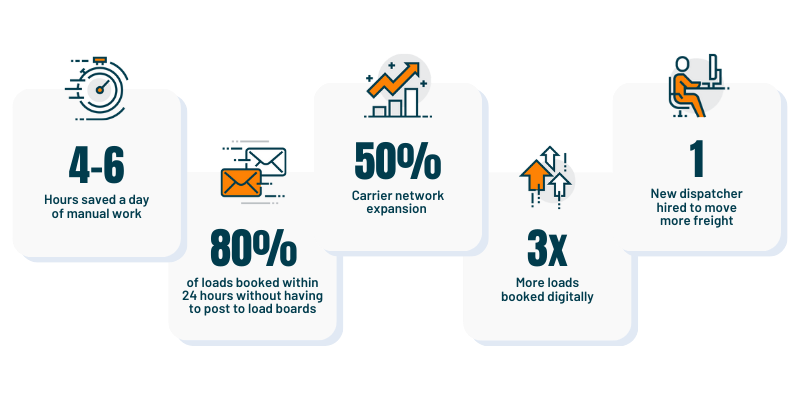 More Time Means More Money
The time saved using Cargo Chief's DFM allows 48 Barriers more opportunity to negotiate the best rates with their carriers - increasing margin - rather than working load boards, making calls, and taking the first option they come across.

In addition to shifting from load boards to DFM, adding Cargo Chief and Tai Software to their tech stack enabled 48 Barriers to focus more on providing better customer service. Moving freight faster means they can sell more barriers.

If you'd like to experience how C4 can help you optimize your freight brokerage, save time on manual work, and focus on growing your business, request a demo today.