Partner Spotlight: Freight Management Systems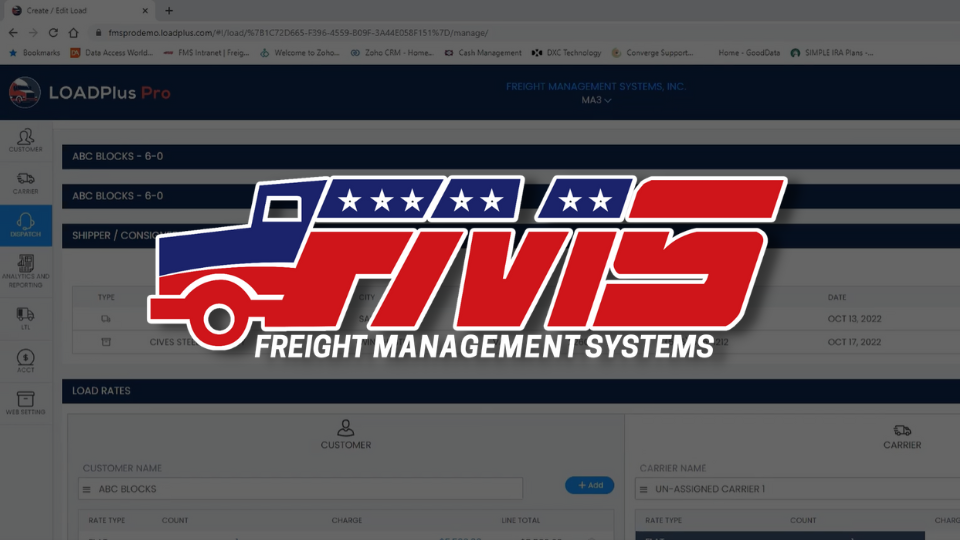 Freight Management Systems, Inc. creates leading-edge TMS software for freight brokers and carriers. We are dedicated to making the business of moving freight easier and more profitable. Built with customers in mind, our logistics solutions and services are customizable to the needs of businesses, no matter the size or variety. We understand our success starts with our customers. Quality service. Customer satisfaction. Exceeding expectations. The bottom line: Great People, Great Software.
FMS' products serve freight brokers and carriers looking for an all-in-one, easy-to-use TMS software to expedite business operations and consolidate technologies. Customers with large-scale operations or brokers just starting out can all fit into our product line.
Key Differentiators of FMS
LOADPlus is one of the most customizable and full-featured TMS products on the market. The TMS features Best in Class Analytics, multi-company and agent support, full truck and trailer tracking, automation and AI tools, built-in accounting, easy-to-use UI, key market integrations, and so much more. The entire product stands out against the rest and is a must-see application. FMS' software is priced competitively with easy pricing to manage any broker's budget.
Why did FMS decide to partner with Cargo Chief?
FMS is excited about the Digitial Freight Matching technologies on the market. With Cargo Chief being one of the leaders in this market, FMS wanted to make sure Cargo Chief's products were offered to our customers. Using DFM capabilities through partners such as Cargo Chief allows for a streamlined process from load entry to booking.
With the promise of potential increased productivity through digital freight matching (DFM), Cargo Chief has brought the latest of this technology to our customers. Customers love having the option of finding the right carriers for their loads. Cargo Chief helps solve this problem, providing instant value to our customers.
How does Cargo Chief integrate with LOADPlus?
What can we look forward to this year from FMS?
Freight Management systems will be showcasing the latest upgrades and many innovative technologies in their all-in-one TMS at the TIA Capital Ideas Conference this April in Orlando, FL. There will be many new features coming this year in LOADPlus. These include new Customer and Carrier Portals, better LTL rating, and continued automation in the full load lifecycle.
To learn more about Freight Management Systems, visit www.fmstms.com or email sales@fmstms.com