How Zengistics Expanded Capacity & Pre-Booked More Freight in Months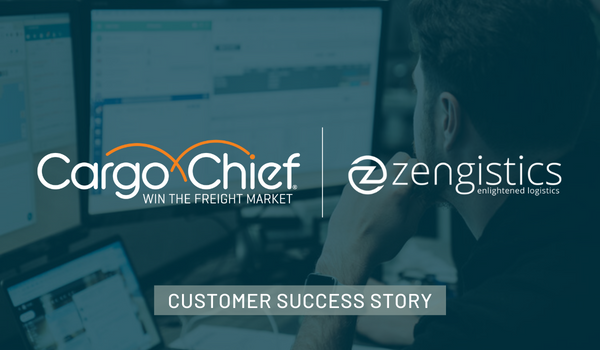 Zengistics is a full-service logistics company offering efficient solutions to complex supply chain challenges. Focused on delivering the highest level of customer service, Zengistics leverages its advanced technology platforms to provide data-driven solutions to optimize its customers' supply chain and proactively maximize efficiency for scalable growth.
Before Cargo Chief
Like many 3PLs, Zengistics relied heavily on spreadsheets for carrier and lane management, raising challenges when it came to repeatability and scaling. Their coverage strategy for booking freight leaned more towards load boards, historical data, and tribal knowledge, creating inconsistent and time-consuming tasks. Like other brokerages, Zengistics had a problem with decentralized processes, fragmented data, and poor network visibility causing challenges with capacity and market volatility.
Zengistics reflected back on their strategy and thought, "How can we access more capacity other than public load boards to grow more strategic relationships while getting all our information in one place?"
While considering their options, they found that many of the products available on the market were not the right fit. Either the solutions they were entertaining were missing features or solved problems that did not yield a big outcome. The Zengistics team needed a solution to scale their business, unify their data, and deliver enhanced network visibility companywide.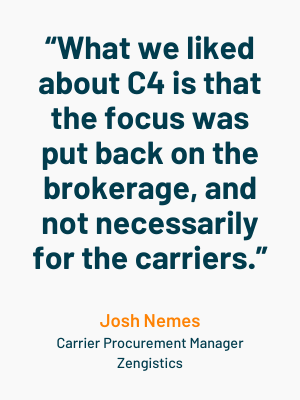 After being referred to Cargo Chief by another freight broker, Zengistics soon realized Cargo Chief's C4 Project & Procurement platform was their missing piece. Not only was C4 designed specifically for brokerages, but it provided capacity, pricing, procurement, and automation all in one tool.
Getting away from load boards
While load boards are convenient, they inhibit freight brokers to grow meaningful relationships with carriers. For growing 3PLs like Zengistics, shifting its focus toward pursuing more long-term carrier relationships is key for scalability.
For Zengistics, expansion meant getting away from load boards and prioritizing relationship management with carriers. Pursuing this path, Zengistics adopted C4's unique database to enrich their carrier and lane data, consolidating fragmented information into one centralized location. C4 instantly matched 55% of Zengistics carrier network on day one, giving them actionable carrier profiles. This enhanced visibility gave Zengistics a path to quickly see the best in-network and out-of-network options. Sorting by lane details, haul direction, and frequency, reduced the time it took for carrier selection and increased option quality.
In just the first month of using C4, Zengistics' carrier network grew upwards of 400%, going from only 3 to 5 options per load, to over 20 options per load, a 380% increase in optionality. Having the capacity to support these lanes gives Zengistics the confidence to take on more business and scale, ultimately growing their load count.

Pre-booking more freight
Having an expanded carrier base doesn't just give Zengistics more options, but the opportunity to drive revenue, increase carrier retention, and book more freight. Alongside carrier expansion, Zengistics sought after more long-term, strategic carrier relationships to help them book more freight. Prior to C4, their freight mix consisted of 65% dedicated freight and 35% spot, spending anywhere from 30 minutes to hours booking each spot load. Moving 1,500 loads per month meant that there was room for improvement to prebook more and reduce the time it takes to cover a load.
Within days of managing their carriers in C4, Zengistics was able to pick up on unique patterns through C4's Projects workflow, prioritizing lanes that had bigger outcomes with less effort.
After a month of using C4 to build stronger relationships with carriers, Zengistics went from pre-booking 65% to 80% of their freight, reducing spot buys to 20%. By pre-booking 15% more freight and over 200 additional loads per month, their team saves 28 hours each week, reprioritizing effort and allowing their sales team to drive in new business with more confidence.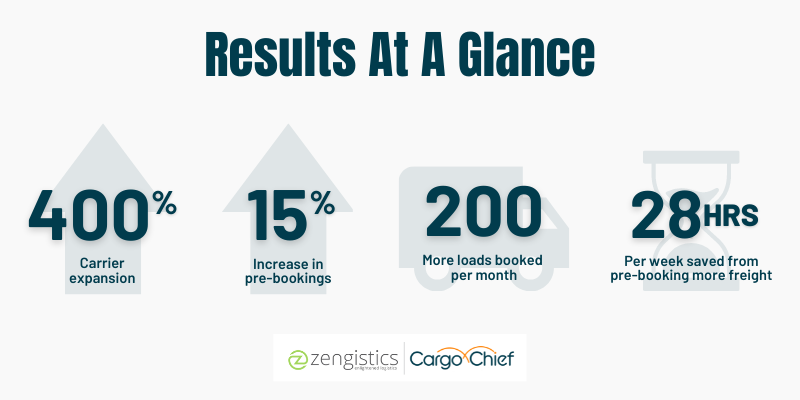 Next Steps
C4 has proven to be an invaluable tool for the Zengistics team. In an effort to gain a competitive edge and automate redundant tasks, Zengistics is adding C4's Digital Freight Matching module to its toolkit. C4's DFM integration delivers a streamlined process to book more freight and drive carrier retention, decreasing the time it takes to cover a load.
Using C4 gives other brokers like Zengistics a solution to centralize processes, increase optionality, book more freight, and the agility to adapt to changing markets with less effort.