Partner Spotlight: McLeod Software's PowerBroker® & Cargo Chief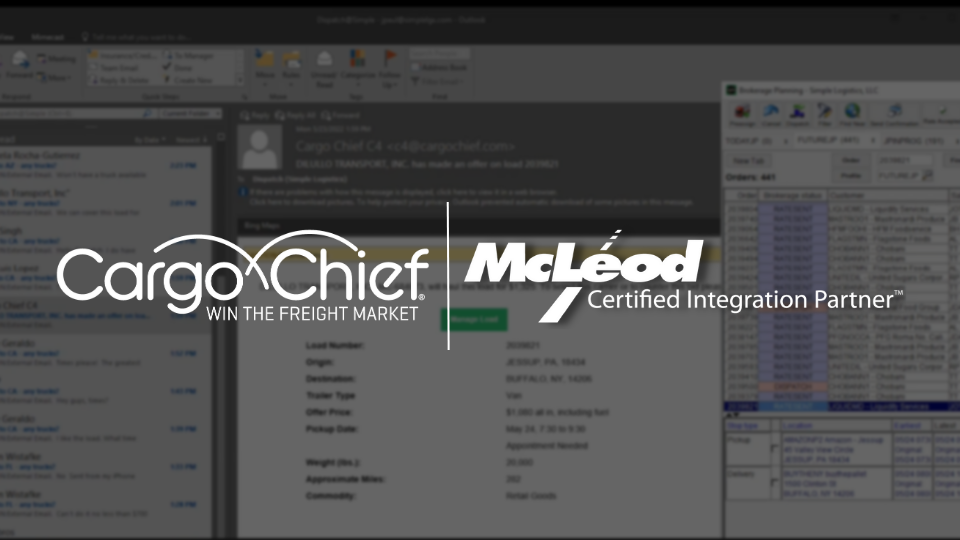 Companies who work with McLeod Software® gain a comprehensive transportation management solution to ensure they are running their businesses and managing capacity in the most efficient and effective ways possible. McLeod Software is the leading provider of transportation and logistics solutions for CRM, dispatch operations, EDI, accounting, fleet, carrier, driver and HOS management, business process automation, visual workflow, and document management systems, all specifically developed for trucking. McLeod's advanced transportation management solutions and services enable our customers to increase their efficiencies while reducing costs.
McLeod Software's customers include: Truckload Carriers, Brokerages, and 3PL Providers
Key differentiators of McLeod Software's PowerBroker® TMS
From a freight broker perspective, McLeod Software's PowerBroker® helps you:
Cover more loads faster through Digital Freight Matching

Make better pricing decisions with automated bid processes and the best source of market pricing in the industry

Build and manage a better carrier base and improve customer service

Automate back office, billing, settlements, and collections

Gain analysis and insight to make better decisions at every level



Why did McLeod Software decide to partner with Cargo Chief?
The McLeod Digital Freight Matching web service is a powerful integration tool which allows PowerBroker customers greater speed and flexibility in covering new freight opportunities through multichannel solutions. We avidly support our customers as they continue to select the best digital technologies available in the market to transform their businesses.
What is Digital Freight Matching?
Digital Freight Matching is an automated and predictive platform that streamlines the process of capacity fulfillment by directing freight to the right match. At a high level, DFM makes booking loads as easy as clicking a button. It has the power to scale booking efficiency and help firms build strong relationships within the industry while cutting down risk, time, and cost.

DFM uses the desired parameters for a load, including lanes, dates of pickup and drop off, weight, and cargo type, to match loads with trucks that best fit the bill. Using machine learning, process algorithms, and API-based technology, DFM can rapidly and accurately find the ideal carrier and truck for a shipper's load.
How does Cargo Chief integrate with McLeod Software's PowerBroker®?
Cargo Chief's DFM simplifies booking freight by automating the load negotiation process. As loads are built, Cargo Chief will send offers to carriers matching our unique database, improving carrier retention and lining you up to book more freight with more options.
Why do Brokers love C4 inside McLeod Software's PowerBroker®?
McLeod PowerBroker users utilizing Cargo Chief's DFM integration are seeing 10% more coverage, 40% more options, and winning more bids.
Hear why Simple Logistics loves Cargo Chief's DFM with McLeod PowerBroker 👇
What can we look forward to this year from McLeod Software?
McLeod Software plans to continue to innovate and expand its data analytics and business intelligence capabilities along with other tools designed to equip carrier and freight broker customers with the information and technology capabilities needed to prepare for whatever disruptions the future might hold. McLeod Software has grown to more than 650 employees and reinvests about 30% of product revenue annually into product development.
To learn more about Cargo Chief's integration with McLeod Software, schedule a demo today!