Countdown to the McLeod User Conference: What to Expect from Cargo Chief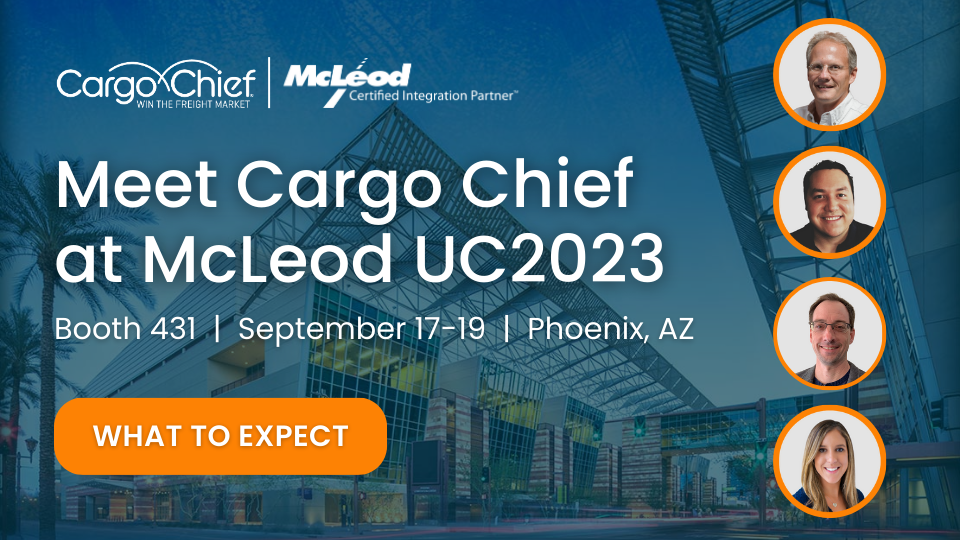 We're excited to attend McLeod Software's User Conference in Phoenix, AZ, September 17-19, and we'd love to meet you there!
Our team will be presenting, exhibiting, and networking, so don't miss the chance to connect with us. Visit us at booth 431 to chat with our experts and learn about our revolutionary C4 Capacity Procurement & Automation platform (seamlessly integrated with McLeod PowerBroker).
So, what can you expect from the Cargo Chief at the McLeod User Conference?
1. Check out our Product Showcase
See how Cargo Chief's Procurement & Automation solution integrates with McLeod's PowerBroker TMS.
Monday, September 18th at 3:20 PM MT
Exhibit Show Floor

Hosted by: Chris Arredondo
2. We're hosting a breakout session!
Data Interpretation: Optimizing Throughput for a Tighter Account to Carrier Relationship
Tuesday, September 19th at 1:20 PM MT
105 C, Level 1

Hosted by: Chris Arredondo
What is the session about:
Who is your marquee customer? Most brokerages would refer to brands like Ford, Home Depot, or Nestle Waters, but what about the other 90% of your customer mix?
Join Cargo Chief, a certified McLeod Integration Partner, as we take a data-informed approach to understanding the gaps in account-to-carrier relationships.
During this open discussion, Cargo Chief will share their innovative techniques used with real customers to help you optimize throughput, improve your load-to-carrier ratio, and book more freight. With an imbalance between margin and volume, leveraging data to make informed decisions is paramount to keep freight moving while maintaining momentum.
Don't miss this opportunity to unveil where your data is telling you to start.To keep up with the ever-changing supply chain industry, freight brokerages and 3PLs must be agile in their business models.
3. Network with our team
Stop by the Cargo Chief booth #431 during expo hours to see a demo of our Capacity Procurement & Automation platform.
Who is attending from Cargo Chief?
What is Cargo Chief's C4 Procurement & Automation platform?
Gone are the days of spending endless hours contacting carriers to secure coverage. Cargo Chief's C4 procurement & automation platform revolutionizes the freight booking process for freight brokers by utilizing an innovative approach that automatically matches your freight with the best carrier at the most competitive price, enabling your team to focus on building stronger relationships within your internal network and enhancing carrier retention.

By using Cargo Chief, you'll benefit from a highly efficient and reliable freight booking experience that saves your team time and reduces stress levels. Whether you are a small brokerage or an enterprise 3PL, Cargo Chief's C4 platform can help you scale your business and modernize your operations.

Experience the difference of Cargo Chief's C4 platform and streamline your freight booking process today. Schedule a meeting at McLeod UC2023.